The importance of choosing the right voice-over
Looking for a voice-over performer or a voice over for foreign language translation? Think that words are enough? Think that a nice voice alone will 'resonate' with your audiences? Not so fast…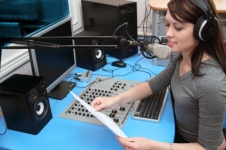 Voice-over artists are just that – Artists.
Much more than a pleasant voice is needed to sound good on a recording; in fact, there's an entire field of study devoted strictly to vocalisation.
A foreign-speaking person who isn't trained in the art of voice-over could do harm to your language translation or voice-performance project. You need someone who's trained and dynamic – a true asset to your product.
Unless you hire a voice-over professional like those employed by Network Languages, you may not get the benefit of:
Recording studio confidence: If your 'voice' has never been in a recording studio, he or she might freeze in front of the microphone, leaving your commercial or other audio in the cold.
Breath control and support: Voices that aren't properly supported by the diaphragm and anticipatory breath control will fall off or sound shallow and weak.
Clear speech: If your contractor isn't trained in proper enunciation, words can be muffled. Extra mouth sounds can intrude, making your message less-than-clear.
Regional accents: A voice-over actor who knows how to speak in the correct dialect and accent, convincingly, is imperative.
Timing: Professional voice-over performers know how to fit your message into the allotted timeframe.
Emotion: Actors who specialise in voice-over use emphasis and tone to convey the emotions of your choosing.
Stamina: When reading from long scripts, trained voice-over artists can maintain consistent pace, tone, and voice strength.
Network Languages will acquire your script, gather specific requirements, find a voice-over artist perfect for your job, schedule a recording time that works well for all parties, and deliver the final recording in the format of your choice.
For more information about our voice over services or to receive a FREE quotation please call +44 (0)1344 870700 or get in touch with us by emailing Network Languages >