Interpreting
As providers of live interpreting services, the interpreting company Network Languages know that the single largest barrier in international and multi-cultural communication is language.
Other obstacles can be tolerated, overcome, hurdled… but introduce a language barrier, and your professional possibilities will be afflicted with a serious case of abbreviation.
These are all things that our interpreting agency, Network Languages can do for you:
Reach a wider audience.
Expand your own possibilities – and those of your business.
Surpass your competitors with interpretation services that give you an edge.
Increase comprehension, and therefore, sales.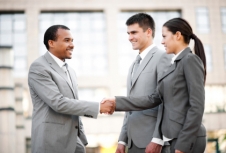 Some interpreting service agencies only offer robotic interpreting services, or phone, video or in-person interpretation services. Network Languages does it all for you. No matter if you're hosting a conference, seminar, meeting, or presentation – or if you simply need to hold a comprehensive telephone conversation – our interpreter services and professional translators are flexible enough, and numerous enough, to cover all your needs for interpretation and translation services.
Maybe you're a service company that wishes to provide the same level of service to all customers, no matter their native tongues. Or, maybe you'd like to reach out to new clients with language perks. Or, you might be part of a government agency responsible for maintaining smooth communication to all citizens, expats, and visitors. Or, it's possible that you're not even sure if you need interpreter services.
Simply contact Network Languages, and we'll tell you all about our interpreting services, and what they can do for you and those whom you wish to reach.
For more information about our interpreting services or to receive a quotation please call +44 (0)1344 870700 or get in touch with us by emailing Network Languages >