Sundanese Language Translation Services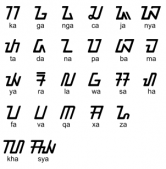 If you have been looking for a professional Sundanese language translation company that prides itself on 100% human translation then look no further.
Here at Network Languages we have the highest quality Sundanese translation and Sundanese interpreting services thanks to a 10,000+ strong team of native language translators.
Sundanese is the language of over 39 million people around the world. It's an Austronesian language where the majority of the speakers are native to Indonesia. Sundanese is most closely related to Madurese and Malay, as well as Javanese. It's an official regional language of West Java and its current writing system if Latin.
Sundanese language translation and interpreting services
Network Language has been a leading provider of high quality human-only Sundanese language translation for over a decade. We have worked on virtually every project type and we're confident that we can exceed your expectations. Typical projects we fulfil include:
Sundanese advertising content
Sundanese Annual Reports
Sundanese Brochure Text/Copy
Sundanese Business Correspondence
Sundanese Information for Consumers
Sundanese Tenders and Pitches
Sundanese Theses
Sundanese User Manuals
Sundanese Website Content
Sundanese White Papers
If your Sundanese language translation needs are not listed above, please get in touch with Network Languages to discuss your project. Our specialist team of language translators will be able to fulfil your needs on time and within your budget.
Why Network Languages?
We are a quality-driven and transparent language translation services company that has worked on hundreds of Sundanese translation and interpreting projects. We never use software to translate – instead, we use our team of 10,000+ translators to deliver work that's to the highest quality and importantly on time and on budget.
Get started today
For a FREE quotation on your Sundanese translation project, please call our team on&nbspnbsp; +44 (0)1344 870700 or contact us.