Saho Language Translation Services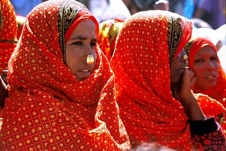 If you require high quality Saho language translation or interpreting, Network Language is here to fulfill your needs.
There are only roughly 220,000 native Saho speakers in the world yet we have a team of Saho language specialists who can deliver top quality translation and interpreting work. What's more, we are committed to only translating and interpreting with human beings, unlike other services which make use of software, bots, and programmes to translate.
Saho is a very interesting language. With only around 200,000 native speakers as of 2007, it's rare and only really spoken in Eritrea and Ethiopia by the Saho people who traditionally inhabit the territory in Eretria.
In Ethiopia, the Saho language is mostly spoken in the Tigray Region. There are four key dialects of the Saho language: Toroa, Assaorta, Minifero and Irob.
Saho language translation services
Finding a high quality Saho translation service is not easy, but thankfully, Network Languages is here to take on your project with years' worth of experience in the translation and interpreting of Saho projects.
Here is run-down of some of the things that we offer:
Saho advertising content
Saho Annual Reports
Saho Brochure Text/Copy
Saho Business Correspondence
Saho Information for Consumers
Saho Tenders and Pitches
Saho Theses
Saho User Manuals
Saho Website Content
Saho White Papers
If you require Saho language work that is not listed above, we are still able to help. The translation services listed above are only the tip of the iceberg with regards to what we offer, so please get in touch with us to discuss your requirements and we will be happy to help.
Why Network Languages?
Quite simply, we provide the highest quality translation services in the UK. we do not use any bots or software to deliver work – everything is translated by human beings, and we have a specialist team of native Saho speakers to work on your projects.
Get started today
For a FREE quotation on your Saho translation project, please call our team on +44 (0)1344 870700 or contact us.