Latvian Language Translation Services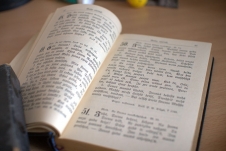 Network Languages has been a leading provider of Latvian language translation and Latvian language interpreting services for over a decade.
Our specialist team of over 10,000 language translators has fulfilled every project type imaginable and has the experience and skills needed to take your project and deliver incredible results that will blow your mind.
Latvian is the official state language of Latvia and if an official language in the EU. There are roughly 1.3 million native Latvian speakers in Latvia and 100,000 living elsewhere around the world. A Baltic language, Latvian is most closely related to Lithuanian.
Latvian language translation and interpreting services
Here at Network Languages we have a rich history of providing Latvian language translation services and Latvian language interpreting services. We have a team of native Latvian speakers who can fulfill virtually any project type. Here's a brief run-down of the various Latvian projects that our team has worked on:
Latvian Advertising Content
Latvian Annual Reports
Latvian Brochure Text/Copy
Latvian Business Correspondence
Latvian Information for Consumers
Latvian Tenders and Pitches
Latvian Theses
Latvian User Manuals
Latvian Website Content
Latvian White Papers
If the translation work or interpreting work you need is not listed above, you can rest assured that our Latvian translators will be able to help. Get in touch with us today to discuss your project.
Why Network Languages?
We have been providing Latvian language translation services for over a decade. We have an extremely high customer satisfaction record and we promise to never use any software or bots to translate software – everything is done manually by real human beings.
Get started today
For a FREE quotation on your Latvian language translation project or interpreting project please call our team on +44 (0)1344 870700 or contact us.