Kurdish Language Translation Services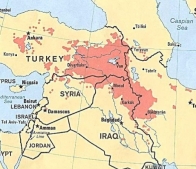 Network Languages specialises in translation and interpreting with a dedicated and skilled team of native Kurdish speakers who can deliver top quality translation services. To find out more about the Kurdish language translation services we offer, read on.
The Kurdish Language is a group of languages predominantly spoken in the Middle East. Kurdish is spoken by Kurds who are the fourth largest ethnic group in the Middle East, with the majority of Kurdish people living in Turkey – 20% of Turkey's population is made up of Kurdish people. You might be surprised to learn that Kurdish has official language status in Iraq.
Kurdish language translation services
Because Kurdish is a group of languages, there are many different dialects. As such, it can be difficult sourcing an accurate language translation service, but with Network Languages you can always be sure that you have professional native Kurdish speakers working on your project. Here's some of the services that we offer:
Kurdish advertising content
Kurdish and Annual Reports
Kurdish Brochure Text/Copy
Kurdish Business Correspondence
Kurdish Information for Consumers
Kurdish Tenders and Pitches
Kurdish Theses
Kurdish User Manuals
Kurdish Website Content
Kurdish White Papers
If you require a service that's not listed above, we welcome you to get in touch with us to discuss your project in more detail. Our friendly team will be happy to help.
Why Network Languages?
With a 10,000+ strong team of language translators and a serious dislike for translation software, bots, and online tools, you can always expect a stellar service from Network Languages. With many years experience in the translation industry, we can also guarantee that projects will be finished on time.
Get Started Today
For a FREE quotation on your Aramaic translation project, please call our team on +44 (0)1344 870700 or contact us.