Hebrew Language Translation Services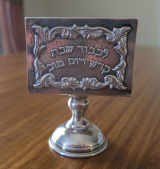 If you are looking for Hebrew language translators and Hebrew interpreters, then you have come to the right place.
Here at Network Languages we have worked on hundreds of Hebrew language projects for businesses and individual customers and we always aim to deliver a transparent and cost-effective service that's only ever to the highest quality.
Hebrew is a West Semitic language of the Afro-asiatic language family. It's spoken by roughly 7.4 million people of Israeli decent and it's the official language of Israel and a recognised minority language in Poland. It's regulated by the Academy of the Hebrew Language.
Hebrew language translation and interpretation services
Here at Network Languages we provide a wide range of Hebrew translation services and Hebrew interpretation services. We work with both with businesses and individuals. Here's a brief run-down of some of the services that we provide:
Hebrew advertising content
Hebrew Annual Reports
Hebrew Brochure Text/Copy
Hebrew Business Correspondence
Hebrew Information for Consumers
Hebrew Tenders and Pitches
Hebrew Theses
Hebrew User Manuals
Hebrew Website Content
Hebrew White Papers
If the service you require is not listed above, fret not. Network Languages can accommodate any project type and welcomes you to get in touch with us to discuss your translation needs.
Why Network Languages?
We never use software to deliver a perfect translation service – all projects are fulfilled by real human beings who are native speakers/ experts in your chosen language. In the case of Hebrew translation and interpreting, we have worked on hundreds of projects with highly satisfied customers. We are confident that we can exceed your expectations.
Get started today
For a FREE quotation on your Hebrew translation or Hebrew interpreting project, please call our team on  +44 (0)1344 870700 or contact us.