Finnish Language Translation Services
At Network Languages we offer a fully featured Finnish translation and Finnish interpreting service for businesses throughout the UK and Europe.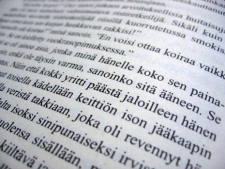 If you need up to date, accurate Finnish translation, you can rely on Network Languages to deliver an exceptional service because unlike some of our competitors, we use real human beings who speak Finnish fluently to translate and interpret as opposed to translation tools, bots, and other types of software.
The Finnish language is the eponymous member of the Finnic language family and it's the main language spoken in Finland. It's also a minority language spoken in Sweden, Russia, and Republic of Karella, and it's estimated that is has around 4 million native speakers. Because of the low amount of native Finnish speakers, Finnish language translation is in high demand and it can be difficult to have a Finnish translation project turned around in quick time.
Finnish Translation Services
At Network Languages we have the people in place to deliver to you a Finnish language translation or interpreting service you can rely on. Our service is always delivered on time and on budget. Here's a run-down of some of the Finnish services that we offer:
Finnish advertising content
Finnish and Annual Reports
Finnish Brochure Text/Copy
Finnish Business Correspondence
Finnish Information for Consumers
Finnish Tenders and Pitches
Finnish Theses
Finnish User Manuals
Finnish Website Content
Finnish White Papers
We actually offer any type of translation service you can think of. If you need Finnish document creation, you can view the full list of documents we create by visiting this page.
Why Choose Network Languages?
Network Languages was established in 1996 and 90% of our business comes from recommendations and referrals. All of our services are carried out by people fully fluent in your target language and our dedicated team of language translators are focused on delivery a quality service all of the time.
Get Started Today
For a FREE quotation on your Finnish translation project, please call our team on  +44 (0)1344 870700 or contact us.