Burmese Language Translation Services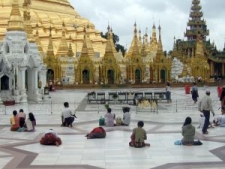 If you have been looking for Burmese language translation or Burmese language interpreting services, then you have come to the right place.
Network Languages has a huge level of experience working with the Burmese language and we're confident we can fulfil your needs.
The official language of Burma, Burmese has roughly 33 million native speakers and 10 million secondary language speakers. It's not a recognised minority language anywhere in the world and as such it's tough to find high quality Burmese language translation outside of Burma. A tonal, pitch-register and syllable-timed language, Burmese is one of the most intriguing – and most difficult to learn languages – in the world.
Burmese language translation and Burmese interpreting services
Here's a run-down of some of the typical translation projects that we work on:
Burmese advertising content
Burmese Annual Reports
Burmese Brochure Text/Copy
Burmese Business Correspondence
Burmese Information for Consumers
Burmese Tenders and Pitches
Burmese Theses
Burmese User Manuals
Burmese Website Content
Burmese White Papers
If your Burmese project is not listed above, fret not. At Network Languages we work on a huge variety of project types and we're sure that we can work on yours. Get in touch with us today to find out more about how we can benefit your translation or interpreting project.
Why Network Languages
Network Languages has worked on thousands of translation projects with exceptional results. We only use real human beings to translate and interpret and thanks to a 10,000+ strong team, we are able to offer translation and interpreting for virtually any language in the world.
When it comes to Burmese translation, we are confident that we can deliver your project on time and on budget.
Get started today
For a FREE quotation on your Burmese translation and interpreting project, please call our team on +44 (0)1344 870700 or contact us.