Worldwide Literary Language Translation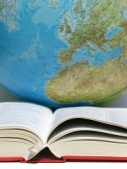 Posted on March 4, 2016 by Chris
You've published your novel, novella, short story, or poetry in English, and it's selling in The US, Canada, The UK, Australia, and other English-speaking geographical areas. Now it's time for your work of art to go worldwide – with professional, literary language translation services.
There are distinctive criteria used by Network Languages when selecting a literary language translation specialist. For instance, the translator must have a truly intimate knowledge of the source and target languages. Understanding things like differing rules in the areas of grammar and syntax is important, but literary language translation isn't just about rules. It's about artistic interpretation.
A literary language translation professional must absorb the original text…develop an understanding of the characters' emotions and intentions within the context of the plot and setting, and then convey those same feelings to the reader in another language. Because word-for-word language translation isn't acceptable, this can create a challenge for a substandard language translator. For example, the English language might have 30 words that can convey the meaning beautiful, all with different cultural and circumstantial connotations; whilst the Spanish language may only have 10 ways to get specific about beautiful.
There is a certain expectation that in literary language translation, some concepts will be dulled whilst others are strengthened. There is no need to fear, though – a professional language translation specialist will ensure that every stanza, every paragraph, every chapter, and every body of work conveys the original message and elicits the emotions evoked by the author's original work. A language translator without an in-depth understanding of both languages and both cultures would be hard-pressed to accomplish this, and that's why Network Languages only hire literary language translation professionals who specialise in your particular language translation needs, with source and target language experience at the forefront.
There's a good chance that investing in language translation for your work of poetry or fiction will reap financial benefits for you. Most obviously, it will broaden your reach to a wider audience. You will widen your opportunities to secure commissioned work. You'll also have a better chance of scoring a place in history. Consider these well-known works that may not have experienced such profound success without literary language translation:
The Bible, with portions translated into 2,527 languages, and with its entirely translated into 475 languages
Pinocchio, 260 languages
Alice's Adventures in Wonderland, 97 languages
Harry Potter, 67 languages
Anne Frank, The Diary of a Young Girl, 60 languages
The Da Vinci Code, 44 languages
The Kite Runner, 42 languages
Anne of Green Gables, 36 languages
The Tale of Peter Rabbit, 35 languages
Gone with the Wind, 32 languages
The Pillars of the Earth, 30 languages
Certainly, if you want to experience profound, worldwide success with your literary work, language translation is a necessity. Network Languages understand that finding a literary language translator who is prepared for this momentous task is nothing to be taken lightly. Call (+44) 1344 870700 or email us today. We'll prepare your story for the rest of the world.