French Language Translation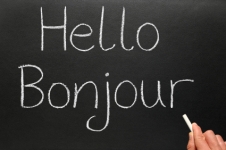 Posted on August 30, 2012 by Chris
Network Languages have seen it all – bad French language translations that result in misunderstood contracts, shattered promises that were never meant to be broken, corporate embarrassment, and offended business associates. None of these are good for business, which has a huge impact when you consider that the primary reason for seeking French language translation is to increase the scope, reach, and profitability of business.
The situations in which French language translation might be needed are virtually endless. Here are just a few that we can think of:
advertising content for reaching the segment of the world's population where your new product is being launched
translation of brochures to aid in marketing your services abroad
any type of business correspondence in which the recipients would appreciate (or need) a French language translation
legal documents for applications in which French-speaking individuals are partaking in a business deal
instruction manuals to accompany your products that are shipped to French-speaking countries
job advertisements for finding French-speaking associates
project plans for overseas construction proposals and for non-native-speaking project managers and labourers
public information campaigns so that French-speaking parties can remain informed, as a matter of public safety
presentations and speeches so that you may effectively reach your audience in its entirety
website content, to expand your international reach
No matter the type of document or verbal presentation that you need to have translated to French, Network Languages is well-prepared to do so. We employ more than 12,000 translators. After evaluation of your project, we will search our database to find a French language translator who is ideal for the job…but that's not the end. Next, we will conduct a thorough, project-specific evaluation of that translator to ensure he or she has the skills necessary for completing the job in an extraordinary manner. A translator will only be assigned if he or she possesses experience in your field of study or in your industry. Additionally, only those French language translators who are native-language speakers and writers, and who are accustomed to the dialect of your choosing, will be considered.
We bear a number of factors in mind when translating French. For instance, when translating text from English to French, the amount of space needed will expand by approximately 15 per cent – meaning that we must make the appropriate considerations when formatting each document. A French language translation requires an intimate acquaintance with the gender roles of nouns, knowledge of how to properly use accents in French words and auxiliary verbs in French sentences, the French uses of H and que, a skillset that includes knowing how to use the French forms of "to be" and French's mandatory contractions, a good sense for when to use friendly versus reverent pronouns, awareness of when capitalisation is proper in written French, and much more.
The best way to ensure that your French language translation will be well-received is to employ a professional, experienced, mother-tongue French language translator through Network Languages. Do it here or call (+44) 1344 870700 now.