The Types of Document That We Create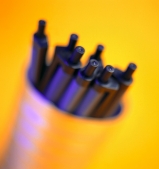 Posted on March 10, 2014 by Chris
Here at Network Languages, we are positive that there is not a single project you can ask us to translate that we won't be able to provide to the highest standard.
Whether you need Marathi, Mandarin or Swahili, we can help.
Quite simply, if you need translation services, look no further. Here are just some of the categories of document we can create.
Medical
We have specialists in medical and pharmaceutical translation that can assist you with translating research or preparing materials for international conferences. Medical researchers frequently use our expertise in this field, where the need for precision is absolutely paramount. We source only the most highly qualified professionals for this exacting work to ensure this service is always completed to the highest level. We are proud of our track record and repeat customers in this division.
Legal
We can offer trained legal translation professionals to help with translating legal documents. Many businesses find our input invaluable when being asked to sign contracts, which commit them to legally binding agreements with foreign companies. Don't get caught out by the small print. Our legal expertise also includes translation work for licences and permits, business correspondence, financial and annual reports, court documentation, Intellectual Property and Patents, asylum seeker cases and tribunals.
Marketing
We have a department of translators who are highly experienced in dealing with marketing issues. We find that our clients in this field find the close working relationship they build up with a translator to be particularly useful. Our experts can guide you with the correct word choices to express the ideas you want to convey. We can offer help with brochure text and copy, advertising content, social media content, email campaigns, pitches and corporate magazine content.
Miscellaneous Business Translation
Network Languages employ experienced industry professionals for all our business clients. No job is too small, or too large for our business translation department. In the past we have helped companies with information technology issues, website content, language auditing, project planning, business pitches, tenders, job adverts, instruction manuals, user manuals, policy reports and study guides. There are few industries we are not conversant with, so do not hesitate to approach us with your project, however obscure you believe it to be. If there is translation to be done, we can do it.
Copywriting
We can also provide you with tailored copywriting documents. When translating a creative marketing idea into or out of another language, it is imperative to have cultural knowledge as well as translation expertise. What plays well in London may be incomprehensible in Jakarta and we are all familiar with translation errors, which cause us great hilarity when they come to light. Our copywriting services are particularly popular with those hoping to break into foreign markets, and we often build up a relationship with clients that can last over several years as their business abroad flourishes. Producing excellent copy is one of the services we pride ourselves on, as it is so rewarding to see companies develop using the translations we provide.