Language Translation Howlers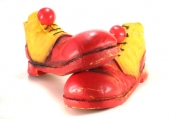 Posted on May 31, 2012 by Chris
I know, I know: your translation services budget is tight so you need a cheap language translation service. But does 'going cheap' really work?
At Network Languages we see language translation as a serious business, but often, language translation companies who don't assign work to competent, professional translators (usually to save money) can get themselves into heaps of trouble with blunders like these:
English to French translation on elevator:  'Please leave your values at the front desk.'
German to English translation (specifically from Central Austro-Bavarian) at a hotel:  'In case of fire, do your utmost to alarm the porter.'
English to Italian translation in laundry:  'Ladies, leave your clothes here and spend the afternoon having a good time.'
Czech translation at a tourist agency:  'Take one of our horse-driven tours – we guarantee no miscarriages.'
Thai translation at a dry-cleaner:  'Drop your trousers here for best results.'
English to Cantonese translation at a supermarket:  'For your convenience, we recommend courteous, efficient self-service.'
Swahili translation in newspaper article:  'A new swimming pool is rapidly taking shape since the contractors have thrown in the bulk of their workers.'
English to Greek translation at a hotel desk:  'Visitors are expected to complain at the office between the hours of 9 and 11 a.m. daily.'
Danish translation at an airport:  'We take your bags and send them in all directions.'
English to Spanish translation on a restaurant menu:  'The manager has personally passed all the water served here.'
English to Japanese translation on a detour sign:  Stop – Drive Sideways.
And possibly our favourite, a Thai translation in a donkeys-for-sale advertisement:  'Would you like to ride your own ass?'
These are just a few of the bad language translations that we have stumbled upon and there are thousands more if you search the internet. Stay tuned for more translation howlers from Network Languages!
For more information about our language translation services to ensure you are communicating the right message about your business please call +44 (0)1344 870700 or get in touch with us by emailing Network Languages >