Interesting Facts About the Kurdish Language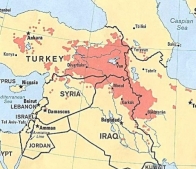 Posted on August 13, 2014 by Chris
Kurdish language is a group of many different languages that are spoken predominantly in the Middle East. Learning more about this language will allow you to become more familiar with Kurdish history and its ties to the Middle East.
Kurdish Language and Ethnic Group
This language is spoken by the Kurds, who make up the fourth biggest ethnic group in the Middle East. Most of the Kurdish speaking people actually reside within Turkey and make up less than 20 percent of the Turkish population. The Kurdish language is still a bit of a mystery to most historians, but it is believed that it first arrived during the Medieval Era from those people within tribes.
Kurdish Language and Rulers
The first known Kurdish speaking ruler was Saladin and he ruled over Egypt and Syria. It is this ruler that is credited for starting the Ayyubid Dynasty. This ruler not only spoke the Kurdish language, but he was also known as a great warrior and led a heroic life that was commemorated with Kurdish poems and writings. Another Kurdish person of prominence was Sharaf Khan Bidlisi and he was known most for his Kurdish poetry and writings on philosophy.
Official Language in Iraq
The Kurdish language has even been regarded as having official language status in Iraq. It is formed by a variety of language and dialects that were spoken by Kurdish people that were also called Kurdistan. However, it is true that most Kurdish speaking people also speak at least one other language. This means that Kurdish speaking people are often bilingual.
What Locations Speak the Kurdish Language?
The Kurdish language is not just popular in Iraq. It is also spoken in Turkey and Syria. However, it is very closely linked to Iraq and has become the official language for a reason. Kurdish speaking people have taken very prominent places in government positions all throughout the Kurdistan region in the Middle East.
Ancient Culture
The best guess on the Kurdish language is that it came from ancient times. The exact history of this language is not completely known, but it has lasted for many years and is still spoken today. The many dialects of this language has kept the Kurdish languages around for centuries with no sign of dying off any time soon. Its ties to ancient culture are what give the Kurdish language so much influence.