Humourous Language Mistakes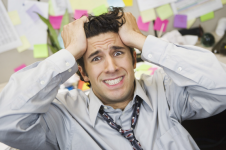 Posted on February 7, 2014 by Chris
Let's have another giggle at some of the crazy translations and mistakes that have happened in the world!
NOTICEBOARDS ABROAD
Foreigners can have problems with both the vocabulary and grammar of our complex and idiomatic tongue. The following misusages have been spotted around the world:
In a Rome laundry: Ladies, leave your clothes here and spend the afternoon having a good time
On a box of a clockwork toy made in Hong Kong: Guaranteed to work throughout its useful life
In a Thai advertisement for donkey rides: We have our own ass if you would like to take a ride
On a detour sign in Japan: Stop: Drive Sideways
In a Copenhagen airline ticket office: We take your bags and send them in all directions
Over the bathroom sink in a Mexican hotel: The water has been passed personally by the hotel manager
In a hotel room in Cambodia: Sorry for guests who have problem, and thank for guests who have no problem
Outside a Paris couturier: Dresses for streetwalking
In a Tokyo bar: Special cocktails for the ladies with nuts
In a German lift: Do not enter the lift backwards and only when lit up
In a Norwegian lounge: Ladies are requested not to have children in the bar
For visitors to the Czech Republic: Take one of our horse-driven city tours: we guarantee no miscarriages
In a Mexican hotel: The manager has personally passed all the water used here
In a Bangkok drycleaners: Drop your trousers here for best results
In a German maternity ward: No children allowed in the maternity ward
In a Hong Kong dress shop: Ladies may have a fit upstairs
In a Paris hotel: Please leave your values at the front desk
In a Yugoslavian hotel: The flattening of underwear with pleasure is the job of the chambermaid
In a doctor's surgery in Rome: Specialist in women and other diseases
In a Danish airline office: We take your baggage and send it all directions
In a Japanese hotel: You are invited to take advantage of the chambermaid
In the lobby of a Bucharest hotel: The lift is being fixed for the next day. During that time we regret that you will be unbearable
In an Athens hotel: Visitors are expected to complain at the office between the hours of 9 and 11 A.M. daily
In a Viennese hotel: In case of fire, do your utmost to alarm the hotel porter
In an Acapulco hotel a sign read "The manager has personally passed all the water served here".
On a sign posted in Germany's Black Forest: It is strictly forbidden on our black forest camping site that people of different sex, for instance, men and women, live together in one tent unless they are married with each other for that purpose
On the door of a Moscow hotel room: If this is your first visit to the USSR, you are welcome to it.
In the window of a Swedish furrier: Fur coats made for ladies from their own skin
In a Bangkok temple: It is forbidden to enter a woman even a foreigner if dressed as a man.
LOST IN TRANSLATION
In their eagerness to move into and conquer new markets, many huge Western companies forgot to do their homework. When the name Microsoft was first translated into Chinese, they went for a literal translation of the two parts of the name; unfortunately that meant it was called "small and flaccid".
Pepsi's famous slogan "Come Alive with Pepsi" was dropped in China after it was translated as "Pepsi brings your ancestors back from the grave".
When General Motors tried to market the Chevy Nova car in Central and South America, they overlooked the fact that Nova means, "it doesn't go" in Spanish.
When American Airlines wanted to advertise its new leather first class seats in the Mexican market, it translated its "Fly In Leather" campaign literally, which meant (vuela en cuero) "Fly Naked" in Spanish.
Colgate introduced a toothpaste in France called Cue, the name of a notorious pornographic magazine.
Coca-Cola was horrified to discover that their name was first read by the Chinese as Kekoukela, meaning either "Bite the wax tadpole" or "female horse stuffed with wax", depending on the dialect. Coke then researched 40,000 characters to find a phonetic equivalent kokou kole which translates as into "happiness in the mouth". Pepsi, meanwhile, (who have made numerous translation mistakes in the past) told its Chinese customers that their drink would bring their dead relatives back to life.
When Parker Pen marketed a ball-point pen in Mexico, its ads were supposed to say "It won't leak in your pocket and embarrass you". However, the company's mistakenly thought the Spanish word "embarazar" meant embarrass. Instead the ads said that "It won't leak in your pocket and make you pregnant".
The Swedish vacuum cleaner company Electrolux told Americans that "nothing sucks like an Electrolux".
Clairol messed up with their translation in Germany and made the mistake of trying to sell customers a manure stick instead of a mist stick for their hair!
Coors Beer told customers that their beer made people have diarrhoea. What they meant to say was that it "loosened you up"!
The American slogan for Salem cigarettes, "Salem – Feeling Free," got translated in the Japanese market into "When smoking Salem, you feel so refreshed that your mind seems to be free and empty"
FOR THE CONSUMER
What a fine array of products the world has in its shop window:
Atum Bom – Portuguese tinned tuna
Bimbo – Mexican biscuits
Kevin – French aftershave
Polio – Czech detergent
Vaccine – Dutch aftershave
Flirt – Austrian cigarettes
Meltykiss – Japanese chocolate
Climax – Kenyan disinfectant
Hot Piss – Japanese antifreeze spray
Naked – New Zealand fruit and nut bar
Noisy – French butter
Last Climax – Japanese tissues
Happy – Swedish chocolate
Prison – Ugandan body spray
Puke ­- Turkish playing cards
Skum ­- Swedish Confectionery
Arses – Spanish red wine
Ass Glue – Chinese blood tonic made from boiled donkeys
Bum – German lavatory paper
Cock Drops – Cypriot cocktail bitters
Colon Plus – Spanish detergent
Crap – French chocolate
Dribly – Italian lemonade
Mental – Italian breath fresheners
Mercy – Japanese lavatory paper
Plop – Swedish chocolate bar
Plopsies – French breakfast cereal
Trim Pecker – Japanese men's trousers
Zit – Greek lemon and lime soft drink
Lady Gay ­- Kenyan hair wax
Sico – Guatemalan condoms
Corny – Belgium muesli bars
Schmuck – German confectionery
Grizly – Chilean savoury snacks
Slag ­- Dutch lager
Love Body – Japanese soft drink
Flirt – Belgian chocolate wafer
Preen – Indian laundry soap
Bra – Swedish milk
Tit Bits – Indian mouth fresheners
Toss – Kenyan laundry detergent
Chief Whip – American cigarettes
Bang Bang – Spanish chewing gum
Noisy – French butter
Yes – Swiss chocolate
Yes – Swedish washing up liquid
Squirt – Guatemalan soft drink
Bum Bums – Spanish chewing gum
Pile – French scratch card
Nuk – Spanish rubber teat
Invisibles – French pasta