How Many Official Languages Are There In Luxembourg?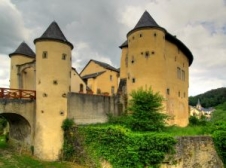 Posted on January 14, 2015 by Chris
There are several dozens of languages and hundreds of dialects spoken by people around the world. One must not mix up dialects and colloquialism; the two are not the same.
Despite there being so many languages, about twenty languages are the most widely spoken or known. More than half of the global population speaks one of these ten languages – Mandarin, Spanish, English, Hindi, Bengali, Arabic, Portuguese, Russian, Japanese and Punjabi. German, French, Dutch and Italian are popular languages but they don't feature in the top ten by the count of speakers; native or otherwise.
Only a few countries in the world are multilingual. Almost every country has many dialects of one or two languages but not many have people speaking two or more languages. Luxembourg is the only country that has three official languages. The United States has two in certain states, English and Spanish. India has dozens of languages and thus states have their own official language. But nationally, Hindi is accepted to be the official language, other than English. Luxembourg is in its own league in that sense, with French, German and Luxembourgish as its official languages.
Luxembourg is a small country in Western Europe. In its brief history of two hundred years since the independence from the French, the country has not only developed its own national language but it has stuck to accepting the erstwhile French and German as its official languages as well.
The influence of French on Luxembourg is understandable. It is similar to how English spread across the commonwealth. The rulers and the elite spoke French and that has remained unchanged till date. German was spoken widely in Luxembourg at the time of its independence and it was often the language of choice in matters of politics, philosophy and various formalities. Luxembourgish is a language that has been around for a little less than two hundred years.
Luxembourgish is very similar to German as well as Dutch. It is a Franconian language that has a distinctly different dialect of German than what is spoken in neighbouring Germany. The dialect was most widely spoken in the Moselle region. This different dialect was introduced officially by the country as a language completely different from German. This allowed the country to have its own national language which was spoken by the people while retaining the significance of French and German.
Today, all three languages are taught in school and they are all used in administration, public or private. The native language of Luxembourg is Luxembourgish. People learn French, German and English as their second language. Around 90% of people in the country speak French and German. About 60% of the population speaks English.