Arabic Interpretation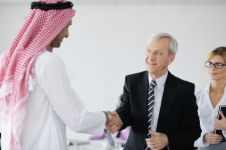 Posted on August 28, 2012 by Chris
Network Languages know that the only thing more numerous than potential interpretation situations is the number of languages we can interpret. With Middle Eastern business dealings on the rise, the need for Arabic interpretation is growing. No matter the source language, we have a language interpreter who is well-versed and ready to turn it into clear, logical Arabic.
When a requirement arises for Arabic interpretation, Network Languages will need a bit of information so that we can assign the perfect language interpreter. This includes whether Arabic will be the source or the target language, the dates and time that the interpreter will be needed, and the location. In addition, we will need to know if the Arabic translation will need to be conducted simultaneously or consecutively.
If you're now asking, "What is simultaneous interpreting?" and "What is consecutive interpreting?", we've got your answers here.
Consecutive interpreting is normally used in small-group or casual settings. Like the name suggests, it is characterised by consecutive, or successive, speech. The speaker of the source language speaks for up to several minutes and then stops so the interpreter can recite the Arabic Interpretation. The language interpreter works in close proximity with participants of the meeting, tour, exhibit, negotiation, or other event. Network Languages' interpreters use a combination of shorthand note-taking and memory tools to ensure the accuracy of the interpreting. Additionally, we only assign Arabic interpreters who are knowledgeable in the industry in which you work. This means they'll be familiar with the interpretation of industry-specific jargon.
The advantages of consecutive interpretation include a friendly environment in which all participants are able to listen to both languages or to use "down time" to absorb what they have just heard. It is also more affordable, since generally, only one interpreter and no audio equipment is required.
Simultaneous interpreting is also just as its name suggests. The speaking of the target language is enacted at the same time the source language is spoken – simultaneously. Often, listeners choose the language of their choice and listen to that language through headphones fed by sound booths that house interpreters. The target language interpreters listen to the source language speaker and interpret with minimal delay. Often, simultaneous interpretation is used for large events in which time is of the essence or in multilingual situations where more than two languages are involved.
Advantages of simultaneous interpretation include the ability of the interpreter to keep the same pace and flow of the speaker, to save time, to address larger numbers of multi-language listeners, and the ability of participants to listen only to the language of their choice.
Every situation is unique, and you may already have a sense for which type of Arabic interpretation will best fulfil your needs; however, if you're just not sure, Network Languages are happy to speak with you to determine how we can best serve your needs. We have a mother-tongue Arabic language interpreter just for you. Simply email us or call us on (+44) 1344 870700.