12,000 Language Translators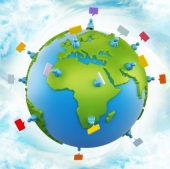 Posted on May 25, 2012 by Chris
Network Languages have plenty of language translators – that's no secret. But 'plenty' might be a slight underestimation.
We have access to more than 12,000 professional translators, worldwide. That's an enormous number – we know – but what our clients find even more amazing is what that generous bank of language translators have to offer.
Whether you're looking for a web translator, text translator, translator for your company, online translator, website translator, or a simple word translator, there's no doubt that we'll find a professional who is perfectly suited to your project and to your long-term goals.
When choosing from our collection of more than 10,000 language translators, we use a number of criteria. First, we narrow our selections by choosing professionals who speak your target language as their mother tongue and are accredited in language translation. Next, we further our focus by choosing those linguists who specialise in the dialect necessary to your project. Then, only those translators who are authorities in your industry make the cut. And finally, the candidates perform a translation assessment to aid us in choosing the perfect language translator for your project.
An overwhelming majority of our linguists are members of associations such as the Institute of Linguistics, the Institute of Translation and Interpreting, or a similar organisation. Most hold Master's degrees or PhDs in translation or linguistics, and are practised in the areas of your preference.
With Network Languages' selection of language translators, there's no doubt that we can find a text translator to meet your needs – and to surpass your expectations.
For more information about our language translation services or to receive a quotation please call +44 (0)1344 870700 or get in touch with us by emailing Network Languages >